MULTICHANNEL NEWS, 14 APRIL, 2016
Australian multicultural broadcaster SBS has commenced rolling out Switch Media's new anti-ad blocking technology across its OnDemand services including their network website, iOS and Android apps.
Switch Media's AdEase – which is being showcased to the world at the National Association of Broadcasters (NAB) conference in the US next week – enables SBS to maximise its online revenues by invalidating the increasing number of ad blocking apps.
To date, Switch Media has integrated the AdEase solution into the recently launched SBS OnDemand AppleTV v4 app, and within a couple of months will roll it out to the SBS On Demand website, iOS and Android apps. This will be quickly followed by integration with the broadcasters' apps for Smart TVs, Chromecast and game consoles.
The server-side ad insertion tool not only side-steps ad blocking technologies, but delivers a smooth, TV-like viewing experience that integrates ads into program content across any digital device. Unlike other server-side ad insertion products, AdEase does not require full ingestion of a broadcaster's video library in order to perform ad insertion, but rather, integrates easily into any pre-existing video management system.
SBS Director of TV and Online Content, Marshall Heald, said: "We've been incredibly impressed at how AdEase has improved the SBS OnDemand viewing experience around ad breaks."
"As well as removing the annoying buffering, the seamless stitching of ads makes the transition invisible to ad blockers. It's a huge leap forward across all our apps and devices and positively impacts our advertising bottom line."
CEO of Switch Media, Christopher Stenhouse, said SBS was the first broadcaster to integrate AdEase into their online content offering, with a number of other broadcasters expected to integrate the product into their online digital properties in the coming months.
"SBS was impressed with the AdEase product's unique, video platform-agnostic approach and highly configurable server-side ad insertion.  AdEase easily integrated with SBS's existing video platform and all of their 3rd party ad serving partners, such as DoubleClick, Videology and Tubemogul." Mr Stenhouse said.
"AdEase allows broadcasters to eliminate ad-blocker effectiveness and deliver a seamless viewing experience by integrating ads directly into any type of streaming content from live sport to drama and news.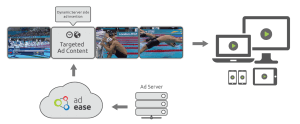 The technical advantages of AdEase include:
•       Dynamic Server-Side ad insertion for VOD, linear and live video content
•       Advanced anti-ad blocking capabilities
•       More accurate audience targeting capabilities
•       Continuous TV-like experience
•       Zero buffering
•       Content management system agnostic
•       No ingesting of content required
•       Ad detection and replacement capabilities
Mr Stenhouse said streaming ad-supported content enabled by AdEase for the Broadcast, Film, Entertainment, Sports, Live Events, and Online Video sectors will save companies millions of dollars in the long run.
"Ad-blocking apps were probably inevitable but allowing ads within the streaming of content ensures it can be provided free to consumers, without them having to subscribe or go behind pay-walls," he added.
"AdEase not only enables content providers and advertisers to maximise revenue through its anti-ad blocking technology but it also provides a highly interactive user experience, audience demographic targeting capabilities for a more personalised viewing experience, and advanced user-behaviour analytics."
Link to MULTICHANNEL NEWS article (14/04/16): Australian broadcaster fights ad blockers with Switch Media's AdEase
https://www.switch.tv/wp-content/uploads/2016/04/SBS-logo.png
866
902
Team Switch
https://www.switch.tv/wp-content/uploads/2019/03/switchmedia_logo_landscape_tagline_original_med.png
Team Switch
2016-04-18 16:55:13
2016-04-18 16:55:13
Australian broadcaster fights ad blockers with Switch Media's AdEase