Luke Durham, CTO of Switch Media shares his insights on TVC adaption for online streaming. READ PRESS RELEASE BELOW.
Source: Global Ad Industry Urged To Adapt TVCs For Streaming Or Lose Millions, B&T, 29 JUNE, 2017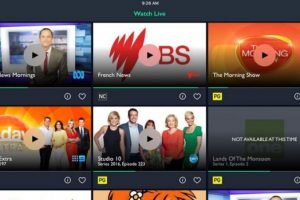 Advertising creatives must produce TVCs specifically for the burgeoning content streaming audiences around the world to deliver maximum return on investment, according to the chief technology officer (CTO) of an Aussie-based over-the-top (OTT) content company.
Luke Durham, CTO of Switch Media, has warned that to achieve this will require all stakeholders, from platform and content owners to advertisers and their agencies, to collaborate.
"To be blunt, conventional TVCs aren't high quality or smart enough to engage streaming audiences in an increasingly demanding and competitive content and entertainment market," he said.
"It's clear there needs to be a greater understanding and cooperation between industry sectors to ensure uniformities and efficiencies are improved on both the creative/production side and the technical delivery side.
"There has been too much focus on keeping costs low to support the bottom line rather than producing the right type of creative for the appropriate channel and audience to grow the top line.
"But standard 30-second ads produced for broadcast television do not cut it. In fact, the use of TVCs online is one of the key drivers behind the growth of ad-blocking technologies."
Switch Media has delivered millions of hours of OTT content over the past decade for Australian clients including Foxtel, SBS, Seven, Network Ten and Freeview.
Durham said that from Switch Media's experience, content and ads need to be tailored specifically for digital devices.
"There are two sides to the problems that we all need to solve," he said.
"Firstly, the advertising creatives and producers must consistently produce clever, engaging, original ads with shorter timeframes.
"Studies have shown that six to seven seconds is the optimal length of video for the average user attention span, with 10 seconds being the maximum to not only maintain viewer attention but to engage them."
Durham said the second major problem is the speed and accuracy of the back-end technology responding to millions of constant content searches literally every second of the day.
"The ongoing challenge for agencies and OTT companies is managing the rapidly escalating volume of content that's becoming available – literally tens of thousands of programs being accessed by millions of end users simultaneously from multiple sources," he said.
"The accuracy of metadata provided by the content owners and ad agencies is imperative for each OTT transmission source to identify the content being sought by the viewer, and delivering them simultaneously to millions of devices across the country."
https://www.switch.tv/wp-content/uploads/2017/06/Luke-Durham-2-Copy.jpg
3644
3643
Suzanne Levy
https://www.switch.tv/wp-content/uploads/2019/03/switchmedia_logo_landscape_tagline_original_med.png
Suzanne Levy
2017-06-29 11:27:47
2017-06-29 11:28:16
Global Ad Industry Urged To Adapt TVCs For Streaming Or Lose Millions