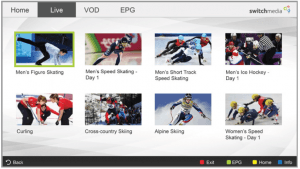 By Peter Perera
At Switch we pride ourselves as:-
– Multiplatform specialists on delivering multimedia to many platforms including but not limited to Web, Desktop, Mobile and standalone devices that we have developed ourselves.
– Problem Solvers, we love solving any and all issues you may have distributing media.
On the mobile front we've been developing apps for iOS and Android with Xamarin (C#). Xamarin gives us and our customers the agility -to move quickly in the market place while also maintaining feature parity on multiple platforms.
Our experience developing cross platform apps has given us many insights into the best way to develop enabling flexibility while in development as well as in operational support, without needing to change the app in the respective Appstore(s). To that end we found that a lot of our customers shared mostly the same requirements (drill through data, featured content, live with EPG and VOD content, with some slightly different rules around UI, Authenticating Users and Managing Accounts, Device Concurrency Control, Social Integration, Purchasing and Analytics.
The Big Question? How do we increase code sharing, while allowing for customisation of UI and Business rules that change between our customers and platforms?
The answer is the MasterApp.
The MasterApp is a fully functional framework for building cross platform apps. It gives customers the benefits of a shared platform that is constantly improving and keeping up with the latest OS updates. When paired with the Switch Media Manager and its components (analytics, purchases, account management, social, and more) the MasterApp drastically reduces development time and gives us the time to focus on the user experience of the app. The MasterApp offers the capability for a simple re-badge of its existing UI or a completely custom UI that matches your brand.
This advanced solution successfully powered NetworkTEN's Sochi 2014 app on iOS and Android, contributing to the over 1.34 million video sessions delivered by the Switch Media Manager. Contact us at Switch to find out what the MasterApp could do for you.
https://www.switch.tv/wp-content/uploads/2014/12/MasterApp.png
590
591
msadmin
https://www.switch.tv/wp-content/uploads/2019/03/switchmedia_logo_landscape_tagline_original_med.png
msadmin
2014-12-04 11:08:12
2015-07-05 13:48:02
Introducing the Switch MasterApp