DAI the vaccine to staunch ad haemorrhage to enable broadcasters to survive & thrive?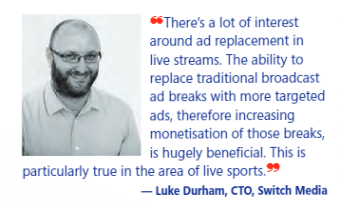 Covid-19 is a fast-acting catalyst for digitalising the world. As media operators are losing revenues from traditional avenues such as TV and print, it is important they regain the loss from digital mediums with the help of technologies. And as many in the broadcast industry are working furiously towards making dynamic targeted advertising a way to staunch the bleeding, News Editor Lara Tan took it upon herself to find out if Dynamic Ad Insertion (DAI) can be the vaccine that will arrest the haemorrhage. Her conclusion: "Die, die must DAI." Indeed, as online video continues to capture a greater proportion of audiences, the rigid ad break structures of traditional TV will have to change. Smart and adaptive ads will be the major trends in the coming year. 
A confluence of issues is accelerating the adoption of dynamic ad insertion (DAI) for the delivery of digital advertisement to multi-screens. It can offer a wealth of opportunities in tracking and providing zero-disruptive ad insertion from live streams to OTT.  
Conventionally, linear ad insertion is disrupting the flow of the video content, which results in the degradation of user experience. Moreover, linear ad insertion could not keep up with multi-screen delivery and impacts the tracking of return on investment for media and brands.  
Hence, broadcasters and media operators are on the hunt for the bespoke solution for non-linear ad insertion. However, they are faced with complex metadata requirement for multi-platform delivery.  
The coronavirus pandemic has also increased the momentum of OTT delivery for broadcasters, as digital media consumption rose during the current lockdowns. According to eMarketer, a digital publication about marketing, there has been a drop in total ad spend, but a 2.4% growth for digital ad spending. Therefore, advertisers are following the shift in 'eyeballs' to focus more on digital advertising.  
Bea Alonso, Director of Product Marketing, Dalet, said: "With more people consuming content on–demand and on mobile devices, there's been a seismic shift in ad–spend from linear TV to digital over the past few months. "The trend in advertising spend has been clearly downwards due to the economic impact of the pandemic, driving both advertisers and platforms to look for more effective ways to reach their target audiences.  
❝When looking to launch SSAI, we had a long list of requirements for the right solution and AWS MediaTailor hit all the marks. It allows us to easily scale our infrastructure to meet the demands of millions of users, capture and report ad metrics, and quickly integrate with multiple CDNs and third-party service. ❞ — Tushar Vohra, Head of Technology, ZEE5  
❝There's a lot of interest around ad replacement in live streams. The ability to replace traditional broadcast ad breaks with more targeted ads, therefore increasing monetisation of those breaks, is hugely beneficial. This is particularly true in the area of live sports. ❞ — Luke Durham, CTO, Switch Media 
 ❝To ensure viewer interest the relevance of ads inserted targeted to the user demographic and device are critical, understanding the target audience is a key factor in ensuring advertising impact, for this tight integration with analytics systems is also a really important piece of the puzzle.❞ — Karl Mehring, Senior Director Product Management of Playout, Grass Valley  
"However, the silver lining is that content consumption on digital platforms is on the rise, with more options than ever before. This is good news for advertisers, who have a wider range of options and price points, with the ability to truly target and personalise campaigns." 
Can DAI be a one-size-fit all solution?  
Dynamic ad insertion can play a pivotal role in supporting broadcasters transitioning from linear to non-linear ad insertion. DAI is indeed a technology that promises to personalise ad for multi-screen delivery and enables cloud-based processing, big data, and behavioural analytics.  
Working from the server–side ad insertion (SSAI), DAI enables media operators to insert video advertising elements into their various programmes: live, linear and video-on-demand (VoD) content.  
Luke Durham, CTO, Switch Media, told APB+: "There's a lot of interest around ad replacement in live streams. The ability to replace traditional broadcast ad breaks with more targeted ads, therefore increasing monetisation of those breaks, is hugely beneficial. This is particularly true in the area of live sports.  
"Switch Media is working closely with businesses as they transition to DAI. With so much fragmentation across devices, the ability to leverage a client-side tracking software development kit (SDK) is important.  
"Switch Media's DAI technology – AdEase, which is part of our MediaHQ online video platform, includes a client-side SDK that enables addressable personalised advertising for live and on-demand content across individual and household connected devices."  
"It's essential that DAI providers ensure measurement of video impressions, which in turn translates back to the metric by which advertisers pay.  
"Client-side tracking is facilitated via an SDK, which has capabilities implemented to ensure that ads are not blocked. "The client-side SDK allows the player to interact and manage tracking beacons.  
"This means that the video player is responsible for sending the necessary tracking information back to the ad servers using the Video Ad Serving Template (VAST) protocol."  
As content owners are constantly looking for ways to reduce cost and complexity while adapting to the evolving OTT landscape, Switch Media has also developed MediaHQ Lite: a fast-to-market online video solution that provides all the essential capabilities and features, complete with applications and the ability to monetise seamlessly, without the complexity and overheads. 
It features smart off-the-shelf solution including DAI; secure VoD and live streaming with DRM; a global CDN service; real-time analytics reports; comprehensive metadata; high-definition ABR encoding; and a range of ready-to-go applications across every screen.  
Durham continues: "MediaHQ Lite allows companies of all sizes the opportunity to significantly extend their reach and revenue generation. Furthermore, the considerably reduced operational resources enables easy adaption to the ever-changing online video landscape and consumer expectations."