LONDON 2012 SUMMER OLYMPIC GAMES
Developed multi-award winning app for FOXTEL's coverage of the London 2012 Summer Olympic Games via iPad and Android
The Client
Foxtel is the leading Pay TV service provider in Australia, with over 2.8 million subscription customers. Key to Foxtel's success has been the sports market, with their sports broadcasting accounting for a large portion of their viewership. In 2012 Foxtel had shared rights with Channel 9 to broadcast the London Olympics, launching 8 new channels with exclusive Olympic coverage. Foxtel identified tablet technology as a new way of improving their service to subscribers. As a result Foxtel made a tablet app a priority for their broadcast.
The Challenge
Foxtel required an app that would allow users to take the Olympics with them. The app provided users with a unique service in the Australian market, streaming all 8 of Foxtel's London channels via Wi-Fi and 3G. A key feature of the app was 'simulcasting,' broadcasting all 8 channels on the one screen, while also allowing the user to watch events in full screen when preferred.  When streaming, Foxtel required the capability for users to rewind up to 30 minutes prior to the point when they began streaming the broadcast. On top of this, users could pause the broadcast and use the app to record events onto their IQ boxes.
The interface required authentication against the Foxtel subscriber management system, as well as Foxtel EPG data and medal table data to be available within the app. A single authenticated user would not be able to play more than 2 streams of video concurrently, with Foxtel aiming to have every major event available within 30 minutes of the televised broadcast. The app also needed to be compatible with both Apple and Android tablets.
"The London 2012 App is a brilliant complementary service for Foxtel sports subscribers. Not only does the App allow you to watch Foxtel's exclusive eight screens of London Olympic action anywhere and anytime, but you also have the convenience of being able to catch up on any events you missed with the touch of a button. Given many of the Olympic sports will take place overnight, you'll be able to check results and quickly replay the sessions – never missing a moment of the action."
Jim Rudder
Foxtel's Executive Director of Product
Switch Media's Role
An Australian first, Switch Media's cloud based video content management system, the Switch Media Manager, enabled FOXTEL to bring 8 live, dedicated Olympic Games channels streamed to tablets across Wi-Fi and 3G to their Residential Sports subscribers. The Switch Media Manager was integral to the production, management, storage and encoding of the VOD assets. Also introduced was a VOD capture technology that rapidly captured, encoded and published to the App a live program (of any duration) in less than 30 minutes after it had finished. This allowed Foxtel to quickly and easily capture and deliver an immense volume of sport sessions across its 8 Olympic channels.
Through the Switch Media Manager, Foxtel's VOD producers were able to set a beginning and end for the VOD and bookmark important moments in events. These bookmarks were used by Foxtel subscribers as 'jump-to' points when they viewed VODs on the application.
After editing was completed, all video assets were encoded to multiple bitrates to ensure the highest quality playback across the supported devices and networks.
Project Outcomes & ROI
The London 2012 Olympics App that Switch Media developed for FOXTEL's coverage of the games via iPad and Android was an unparalleled success registering over 160,000 downloads throughout the duration of the world's greatest sporting spectacle, making it  an important part of Foxtel's most successful sports broadcast ever, and the most downloaded app on both Apple and Android markets in Australia.
The app was hailed as a breakthrough in sports broadcasting in Australia, with ASTRA, the industry body for Pay-TV in Australia calling it "a defining moment for subscription TV and a benchmark for future broadcasting of major events" (The Age, August 2012).
The Foxtel LONDON 2012 App set a new standard on what to expect out of streaming video on tablet devices. No other Australian broadcaster had provided as extensive live streaming coverage as the App's 8 dedicated channels and its 8 screen multi-view experience.
Project Summary
Multi-Award winning App in 2012/13: Best Sports App Best Television/Movies App (Australian Mobile Awards 2012), Innovation of the Year (Image + Sound Awards 2012), Most Outstanding Use of Technology (Astra Industry Excellence Award 2013), and Best Sport App (AIMIA 2013)
8 Live Olympics Channels
VOD preparation (bookmarking to editorial specifications, 50 hours of VOD content/day across the 8 channels)
VOD Content
'Live2VOD' rapid publishing of live content
Advertising support (pre-roll, post-roll)
Editorial Content (Medal Tally, Results, Athlete profiles, News)
Analytics and Reporting
Delivery to Tablets and Connected TV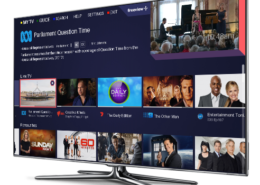 The Freeview Plus HbbTV service upgrade delivers the next level in content discovery and choice for Australian free-to-air viewing.