Everything you need to experience the MFA Awards at your fingertips.

The Client
Seven West Media is Australia's leading multiple platform media company with a market-leading presence in broadcast television, magazine and newspaper publishing and online.
The company is expanding its presence in the further delivery of its video and publishing content beyond its three digital broadcast channels and across an array of platforms, including Hybrid Broadband Broadcast Television and the Presto SVOD joint venture with Foxtel.
RED offers the most extensive suite of integrated resources available in market; enabling Seven West Media to consistently deliver the most innovative marketing solutions to the industry through continuous investment in the future.
Switch Media's Role
To leverage their experience in video content and app delivery, Switch Media were chosen to provide Seven West Media with a feature rich and compelling user experience for the 2015 MFA Awards mobile and tablet app.
Switch Media built the required iPhone, iPad, Android Tablet and Phone native applications using their proprietary reference app architecture, the Switch MasterApp, as a base.
Switch Media built, tested and managed distribution via App stores with a user friendly app that featured all the Award Categories and Finalist's creative entries, Social Media Wall #MFAAwards, Tumblr, and Live Chat with other guests at the event as well as the capability to watch all the Red Carpet action.
Live Chat in-app was a new feature that was designed and implemented by Switch Media. This feature did not exist in the MasterApp and was fully customised to meet clients needs.
Project Outcomes & ROI
This project was deemed a success as RED wanted to put a toe in the water with an event app that drove engagement with attendees. With the in-depth analytics Switch Media provided, RED were able to understand which sections of the app performed better than others, allowing for an improved app offering in 2016 based on key learnings, as well as informing the development of other apps for similar style award shows and live events.
Feedback from Seven West Media:
"The Apps are looking great!"
"The Switch team were all very responsive and easy to work with"
Project summary
Provided Seven West Media with an app for iPhone, iPad, Android Phone and Tablet with the following inclusions:
Customised Red Branded Interface
Video On Demand
Editorial Services
Social Wall Integration
Tumblr Integration
Private Live Chat Platform
During and Post event analytics
App Store Submission Management
"The MFA Awards is the night of nights for the Australian Media Industry, and this year in partnership with the major sponsor RED, the event was dynamic, innovative and creative; the touchstones of the MFA. The first ever MFA Awards app was a successful and unique offering. Switch's diligent and effective work to deliver this inaugural product is commended."
Jenny Hosie
Director Integrated Sales RED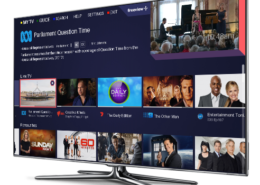 The Freeview Plus HbbTV service upgrade delivers the next level in content discovery and choice for Australian free-to-air viewing.