Proud end-to-end service provider for the new Freeview On Demand NZ platform
Switch Media is excited to have provided end-to-end development and delivery of the Freeview On Demand platform. Read Freeview Limited press release below to find out more.
"Freeview NZ is pleased to have partnered with OTT service provider Switch Media to deliver the new Freeview On Demand platform. Switch Media provided a flexible and innovative framework for easy on-boarding of participating broadcaster content, compatible with a range of popular Smart TVs in the NZ market. The viewer-centric approach taken in its development means viewers can now enjoy easier access to On Demand and a more seamless viewing experience." – Freeview CEO, Jason Foden
Freeview launches new On Demand Experience
Source: PRESS RELEASE | FREEVIEW LIMITED | Tuesday 3 July 2018
Freeview has commenced roll-out of a new On Demand TV Platform to replace the existing FreeviewPlus service. The new Freeview On Demand provides a more seamless experience and easier access to free shows and movies you can watch any time, directly on your TV. Implemented in collaboration with leading New Zealand broadcasters (TVNZ, MediaWorks, Māori Television and RNZ), the new platform supersedes the broadcasters' own TVNZ OnDemand, ThreeNow and Māori Television On Demand apps previously linked to FreeviewPlus. By combining shows across all participating broadcasters into a single content library and streaming them all within the new Freeview On Demand platform, it greatly improves content discovery and access.
Viewers are free to browse by genre, catch up by channel or locate specific titles through the search feature.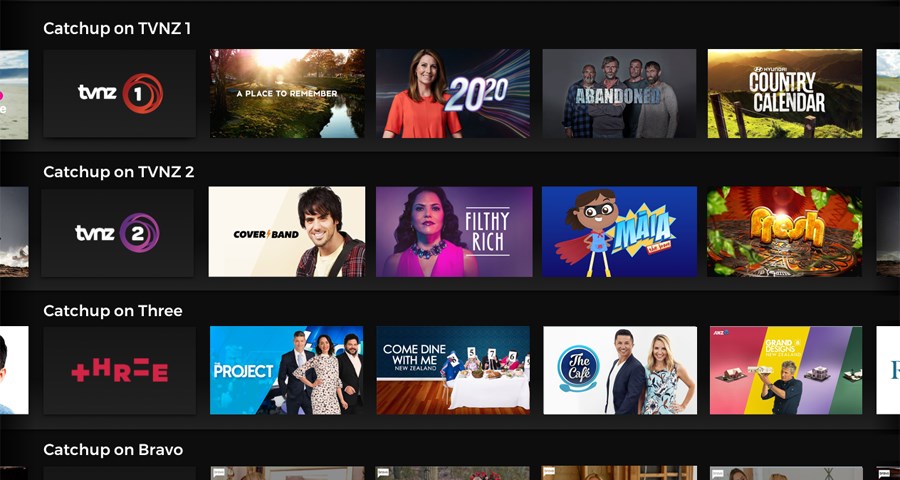 And rather than being sent to a show page on a linked broadcaster app, the show or movie selected by the viewer in the Freeview On Demand library will now play straight
away. Viewers will be asked to register for a new Freeview account when they stream their first show, so they won't need to register for multiple accounts as more content partners are added. Signing up to a new Freeview account can also provide viewing history and deliver personalisation features in the future.
Freeview CEO, Jason Foden, says the platform has been designed with the viewer at the heart of the experience.
"Everything about the upgraded platform is designed to give our viewers the best experience possible. Its simple design and streamlined playback help to improve performance, a simpler mini guide points to a compelling On Demand library, the TV Guide provides more information at a glance, it's easier to use and remains free.
"I'm confident the simplicity of the new platform and its visually-compelling interface will give Kiwis a greater viewing experience." Foden concludes.
The new Freeview On Demand is available now on selected Smart TVs and will roll out over the coming week to all Smart TVs released since July 2015, as well as connected
set-top boxes and recorders.
Viewers who already have access to On Demand content through Freeview (or FreeviewPlus) will get an automatic upgrade. Those who do not currently access Freeview On Demand, but have fairly new Smart TV (2015-2017) can get it by simply connecting to a working TV antenna and broadband.
And yes, as with everything from Freeview, the new Freeview On Demand platform, its full suite of features and content are all free to access.
Find out more about the New Freeview On Demand here.
New Freeview On Demand – key changes:
Replaces FreeviewPlus and its linked broadcaster apps
Easier access to On Demand and Catch Up TV
Introducing a new Freeview account
Simpler Mini Guide
TV Guide provides more channels at a glance
Universal search by title, genre or channel
Browse by genres or by channel
Featured and Popular bands highlight the latest and greatest TV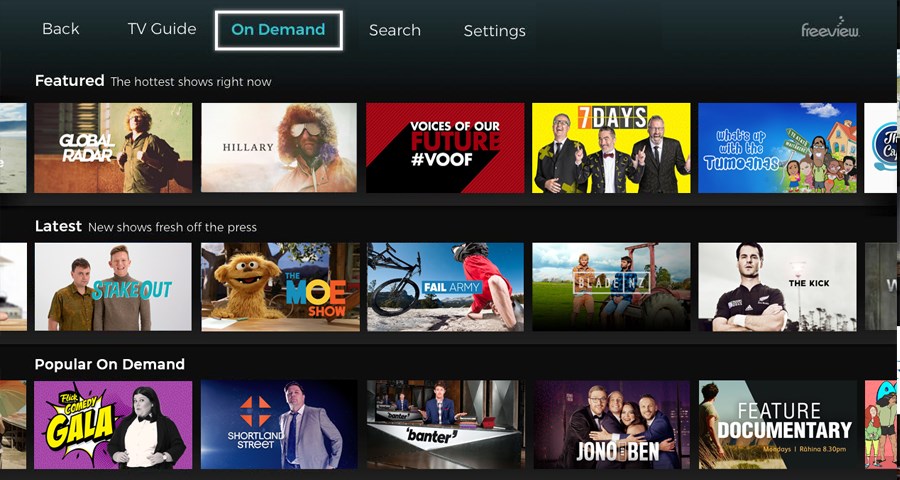 About Freeview www.freeviewnz.tv
For more details please contact: Sophie Wills One Plus One Communications
09 951 3947 | 021 889 362 | sophie.wills@oneplusonegroup.co.nz
https://www.switch.tv/wp-content/uploads/2018/07/Freeview-On-Demand-web_catchup_900x480.jpg
480
900
Suzanne Levy
https://www.switch.tv/wp-content/uploads/2019/03/switchmedia_logo_landscape_tagline_original_med.png
Suzanne Levy
2018-07-05 17:05:18
2018-07-13 12:22:16
Proud end-to-end service provider for the new Freeview On Demand NZ platform