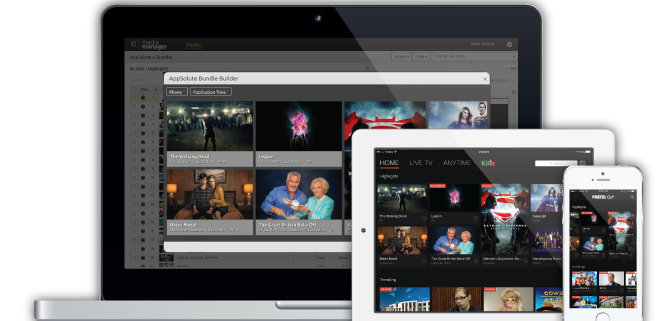 Switch Media launches unique multi-screen streaming app with ad monetisation and advanced analytics at NAB
An end-to-end, ready-to-go app framework enabling content owners to rapidly deliver live and on-demand media to their own fully branded multi-screen app, will be launched at the NAB Show next week by Switch Media.
The Australian-based world leader in video streaming technologies will launch its AppSolute product at the National Association of Broadcasters event in Las Vegas (April 24-27).
Switch Media CEO Christopher Stenhouse said AppSolute was a game changer in over the top (OTT) streaming because it includes all necessary video-on-demand and live streaming capabilities, publishing, data driven analytics tools, is fully customisable, and can seamlessly monetise the content.
"This multi-screen app makes it easy for any organisation – from business and sporting organisations to education institutions and government – to rapidly launch dynamic OTT video services to their audiences across any screen," he said.
"It opens opportunities beyond the conventional media and broadcasters to a much wider enterprise world where companies can create their own content platforms.
"These may include niche sports competitions, community events and performances, staff-training and resources, promotional videos, or archival footage for reference or research.
"Our advanced data driven analytics can provide in-depth, real time insights and data around how their content/media is performing, being consumed and being engaged with.
"It also includes video quality and advertising performance intelligence, which equips content providers with real time actionable insights to increase viewer engagement and return on investment."
The key features of AppSolute include:
·       Fully customise and launch your Apps to desktop, mobile platforms and Smart TVs using Switch Media's proprietary modular architecture.
·       Support for linear and video-on-demand content, text/HTML elements, EPG schedules and more.
·       Effortlessly publish and manage VOD and linear content on your Apps via the AppSolute CMS module in Media Manager.
·       Instantly update App copy and user interaction messages with our cloud-based app management tools.
·       Built-in Universal Player with flexible iOS and Android SDKs.
·       Easy integration with AdEase for client-side and server-side ad insertion.
·       VAST ad support, including hooks to drive companion advertising.
·       Our highly optimised App architecture provides quick load times and optimum device memory usage.
·       Customisable player skins and layout can be easily implemented
·       Through the Switch APIs, easily integrate with 3rd party services such as user identity, EPG data, and external metadata
Mr Stenhouse added that streamed programs can also be monetised through integration with Switch Media's server-side ad insertion tool AdEase, which was launched at NAB last year.
"AdEase allows the on-demand content, from 'live event' sport to news and drama, to side-step the ad-blocking apps and deliver a seamless viewing experience. This integrates ads with program content on any digital device as part of the end-to-end AppSolute package".
https://www.switch.tv/wp-content/uploads/2017/04/AppSolute-3devices.png
406
670
Suzanne Levy
https://www.switch.tv/wp-content/uploads/2019/03/switchmedia_logo_landscape_tagline_original_med.png
Suzanne Levy
2017-04-20 15:05:03
2017-04-20 15:05:03
Switch Media launches unique multi-screen streaming app with ad monetisation and advanced analytics at NAB