"Freeview partnered with Switch Media, a leader in the development of high quality technology solutions for the television industry.  Switch Media provided a flexible and innovative approach to the integration of our FTA network's live streams and catch up assets resulting in a seamless Freeview FV user experience."  – Liz Ross, Freeview CEO.
FREEVIEW PRESS RELEASE, 07 NOVEMBER 2016
Freeview FV Mobile App Launches
In an exciting world first, Freeview has launched a new mobile app, Freeview FV, allowing Australian viewers to watch live streaming of 16TV channels and catch-up content from the free to air networks on the go, with just one click.
Live-streaming channels available at launch include: ABC, SBS, Seven, Channel 9, TEN, ONE, ABC2/ABC KIDS, ABC ME, ABC News 24, 7TWO, 7Mate, 7Flix, Racing.com, 9Gem, 9Go! and 9Life. More live channels will be added as they become available.
Consumers will have access to catch-up content from all the free-to-air networks including SBS On Demand, ABC iview, PLUS7, 9Now, and tenplay.
Developed by Freeview, the new Freeview FV app is available on iOS iPhone, iPad, and Android phones. In addition to live streaming and catch up, the simple-to-use Freeview FV app offers other great features including:
browse and search all free-to-air programs
a free-to-air TV guide
favourites and reminders functions
Freeview CEO Liz Ross said the app was ground-breaking for TV viewing and gave viewers more choice and convenience than ever before.
"This is a fantastic new way for people to enjoy TV on their terms and never miss a thing, especially when they're on the go. It's great news for viewers and we've worked hard to create a powerful, simple and user-friendly experience," said Ross.
Ross added that Freeview anticipated strong pick up, particularly among commuters, and believed the app will have a positive effect on summer TV viewing and beyond as it meets consumer expectations of convenience.
For live sport, Freeview FV mirrors the networks' sporting rights agreements.
The mobile app can be downloaded through the App Store or Google Play. Freeview FV will also be able to mirror to Apple TV using AirPlay.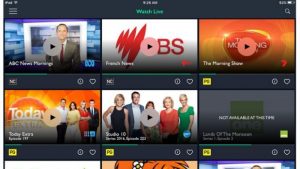 About Freeview
Launched in 2008, Freeview is the free digital television service in Australia which presents and promotes free-to-air channels and content to all Australians. Freeview encourages Australians to watch free-to-air content across various platforms by promoting benefits that include more than 25 channels and catch-up services for free. Freeview's mission is to deliver the free-to-air content to all Australians where, when and on whatever device they choose.
Link to Freeview news article (07/11/16): Freeview FV Mobile App Launches
https://www.switch.tv/wp-content/uploads/2016/11/freeview-fv3-e1478652388844.png
238
360
Suzanne Levy
https://www.switch.tv/wp-content/uploads/2019/03/switchmedia_logo_landscape_tagline_original_med.png
Suzanne Levy
2016-11-09 10:40:15
2017-03-02 14:24:17
Switch Media – Proud service provider for world first Freeview FV App