The team at Switch Media are proud to have worked with Freeview Australia to deliver their new HbbTV Service.
Built using our award-winning MediaHQ solution, it is one of the first aggregated platforms in the world to be delivered according to the latest HbbTV 2.0 standard.
MediaHQ not only supports the new HbbTV 2.0 standard but also uses DAI technology to create personalised ads and a rich interactive viewing experience.
READ MEDIA RELEASE BELOW FOR MORE
By Shaun Lim | 23 Dec 2021 | Asia Pacific Broadcasting+ | Link to article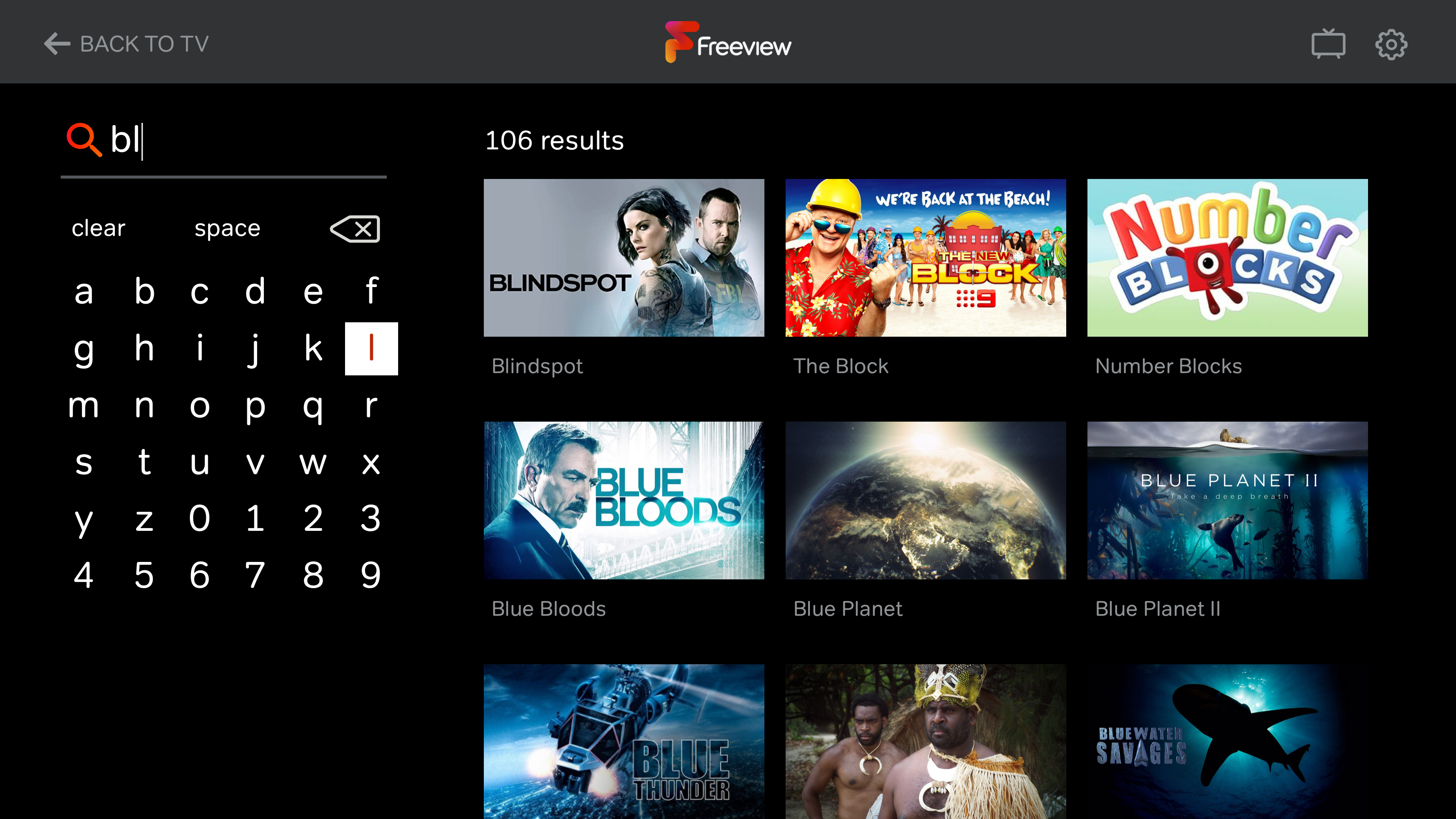 With the challenge of attracting and retaining eyeballs increasingly acute as viewers have more choices than ever to consume content, any advantage broadcasters can gain in the race for viewership cannot be understated.
For Freeview Australia, a digital terrestrial TV platform that brings the country's free-to-air (FTA) broadcasters onto a single platform, the desire to provide viewers with a "sophisticated and seamless integration" between broadcast and video-on-demand (VoD) led to the April 2021 launch of a new integrated Hybrid Broadcast Broadband TV (HbbTV) service.
The HbbTV service has also allowed Freeview Australia to significantly grow and improve the user experience and engagement, Dean Dezius, General Manager, Freeview Australia, revealed.
He told APB+, "Since it became available in April 2021, it has delivered significant monthly and year-to-date uplift in audience engagement, driven by a richer user experience.
"With access to more than 35 channels, the HbbTV service provides Australian audiences with a streamlined way to search and discover content, without the need to download individual broadcaster apps."
Supported by the Australian Broadcasting Corporation, Special Broadcasting Service, Seven Network, Nine Network, Network 10, Prime Media Group, and Southern Cross Broadcasting, Freeview Australia opens up access to the complete FTA on-demand catalogue in Australia, comprising over 50,000 pieces of content delivered free to viewers' TV sets.
The goal for FreeView Australia, Dezius shared, is to continue to meet Australian viewers' demand for the highest quality TV service. "At Freeview Australia, we continue to innovate to meet those demands by joining the ranks of leading global connected TV players harnessing the power of HbbTV."
For instance, the HbbTV Targeted Advertising (TA) specification is helping broadcasters create personalised communication to viewers and support different content delivery models.
The HbbTV-TA specification is jointly developed by the HbbTV Association and DVB; the latter developed the signalisation of the targeted ad placement opportunity, and the former developed the terminal specification for advert substitution in broadcast live streaming.
Dezius suggested, "This new HbbTV technology is breaking ground as the leading delivery platform for DVB's new targeted advertising specification and continues to set standards for broadcast TV by transforming possibilities for viewers.
"There is no doubt that the appetite to explore TA is there and starting conversations with partners now will get them thinking about how best to apply the process to their own operations and identify any changes required to pursue this technology when it becomes widely available."
HbbTV 2.0.2 supports frame accuracy, making it well positioned to assist in dynamic advertising, added Matt Moran, Engagement Director, Switch Media.
Freeview Australia's HbbTV service is supported by Switch Media's DAI technology, which is included in the MediaHQ online content publishing platform, and which provides support for HbbTV 2.0.
Moran said, "Because the HbbTV 2.0.2 spec is HTML5 and CSS3 compliant, it supports the development of a more sophisticated user experience and interface such as improved animations and transitions."
Switch Media's DAI technology includes a client-side SDK that enables addressable and personalised advertising for live and on-demand content across individual and household connected devices, Moran shared, adding that it is also offering API support to deliver interoperability with identity management systems, data management platforms, and other systems to support more data-driven ad opportunities for advertisers.
As broadcasters continue to redefine their strategies to connect with their viewers and shape new viewing experiences in 2022, Freeview Australia's focus will be to take advantage of HbbTV technology to deliver an improved and richer interactive viewing experience, and help drive the industry forward, Dezius declared.
This, he added, will be achieved partly by Freeview Australia's HbbTV service being built on new HbbTV 2.0 devices, which is ensuring the widest accessibility and reach to viewers in Australia.
Dezius elaborated, "It is also fully backward compatible with all Freeview certified HbbTV 1.5 devices — dating back to 2014 — through the dynamic delivery of different app versions to suit varying TV requirements."
Switch Media's platform extends the HbbTV 2.0.2 specification with the concept of 'power modes', which target individual TVs or TV categories and present content to them in the most optimal way. This may be through disabling certain features like transitions or enabling lower resolution images as to not overload the devices' capabilities, thus allowing content providers to ensure that new apps will work on TV sets manufactured as far back as 2014, which would not have otherwise been possible.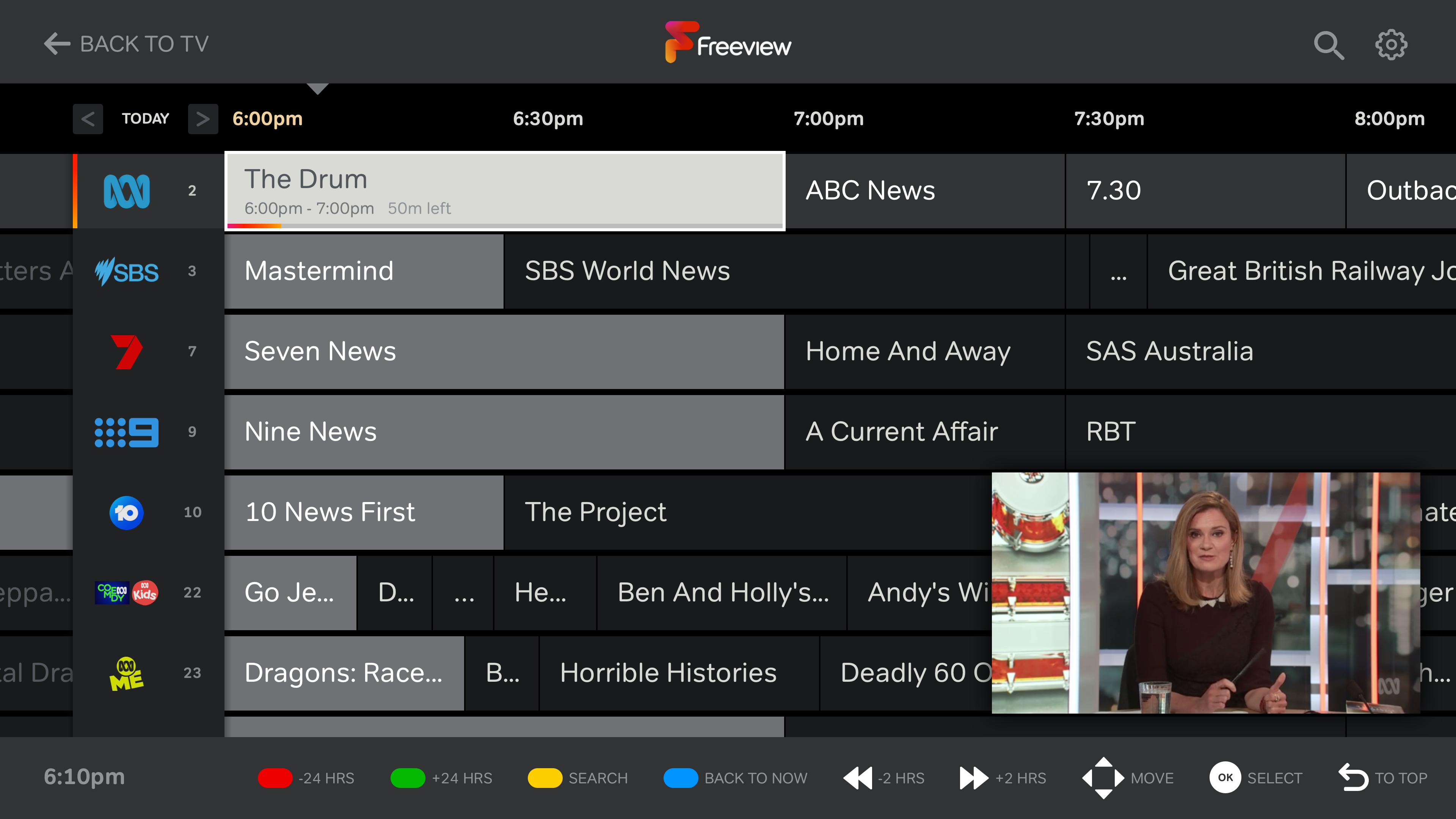 By displaying content from every FTA channel in Australia on one app, Freeview Australia's HbbTV services give broadcasters in the country the opportunity to provide a unified viewing experience to compete against the streaming giants, Moran highlighted.
He explained, "HbbTV provides huge benefits to broadcasters, making it possible for them to deliver traditional linear services and VoD content that's supported by web, mobile, and native apps. It also allows them to get back some advantage around viewer attention and visibility to better compete with pay-tv services in the 'battle for HDMI1'."
For viewers who subscribe to a pay-tv service, the first screen that appears when they turn on their TV is content promoting that service, which automatically gives that operator an advantage. From that perspective, HbbTV levels the playing field as its services are always on because they are built into the TV set.
"This means it's the FTA broadcasters who reclaim the advantage by having their content and services promoted first," Moran concluded.