FreeviewPlus – 'A Better Way to TV'
Live TV and On Demand, Together on Your TV!
The Client
Freeview® is an organisation launched in 2007 by New Zealand's leading free-to-air broadcasters, TVNZ, Mediaworks, Māori Television, and Radio New Zealand.
In 2015, Freeview launched a new digital TV platform designed to give New Zealanders easy access to on-demand video services on their TVs – FreeviewPlus. Viewers can catch up on the latest and greatest TV shows, movies, news and sports from over 20 of the top New Zealand networks, and allows them to find, bookmark, watch or stream their favourite shows directly to their TV.
Freeview® decided that having the same player powering all of the media applications would result in the most consistent and pleasant user experience for their viewers, and would therefore increase customer satisfaction. This became a major requirement for  the development of FreeviewPlus.
The Challenge
For this project, Freeview New Zealand required a robust, scalable and highly configurable video player to be deployed across all of its HbbTV channel applications. In order to become the new standard, the player, compatible with the HbbTV 1.5 specifications, would need to support the highest standards across all fronts including: support for the HTML derivative CE-HTML and the agreed HbbTV streaming standard MPEG-DASH, interrupted playback for pre, post, and mid-roll ad insertion, accessibility, appearance, configuration and analytics.
Due to the multitude of low-performance HbbTV-compatible devices in the market, the solution also had to fulfill stringent performance requirements so that it ran on all FreeviewPlus certified devices, regardless of the power.
"By working with Switch Media and using the powerful Switch Universal Player, Freeview and its broadcast partners have delivered a quality, uniform video streaming experience to FreeviewPlus viewers. The common player for FreeviewPlus is a real benefit to the platform and the Switch Media team worked well with the large numbers of stakeholders to deliver this to our requirements on time and on budget."
Sam Irvine
General Manager Freeview New Zealand
Switch Media's Role
With vast experience in delivering a range of end-to–end video solutions, Switch Media were well positioned to assist Freeview New Zealand with the delivery of their FreeviewPlus capability. Switch Media's role in the project was to provide their Universal Player, a lightweight, reliable and easy to use media player that is feature rich and compatible with all compliant HbbTV and CE-HTML devices.
To ensure the player was compatible with the multitude of low-performance HbbTV devices in the market, Switch Media conducted a great deal of manufacturer-specific optimisation and testing. With the number of FreeviewPlus certified devices constantly increasing, Switch Media had to keep abreast of all the latest releases to ensure the player fulfilled stringent performance requirements and worked, regardless of the power of the device it ran on.
Switch Media also worked with other vendors, including the HbbTV application developers for Freeview's shareholders – TVNZ, Maori TV and MediaWorks, to ensure smooth player integration and help with issue troubleshooting. For troubleshooting issues specific to a particular HbbTV device, Switch Media's development team liaised directly with the manufacturers to achieve the quickest possible resolution time for Freeview.
Switch Media delivered the Universal Player for FreeviewPlus ahead of schedule, utilising an Agile development approach and working closely with Freeview NZ to elaborate on their requirements and meet their expectations.
Project Outcomes & ROI
FreeviewPlus is a smart TV Guide that provides seamless access to live, catch-up and on demand TV across New Zealand broadcasters and networks. With a range of features, viewers can easily access content on their TV from over 20 TV & radio stations as well as on demand content from TVNZ On Demand, 3NOW and Māori Television On Demand.
A New Zealand first, FreeviewPlus used HbbTV to enable seamless integration and switching between broadcast TV and on-demand services.
Project Summary
Provided a lightweight, highly optimised, multi-platform JavaScript (JS) player compatible with all compliant HbbTV CE-HTML devices
Easy, configurable deployment due to centralised configuration and modular architecture
Standardisation of controls and events
Functionality for advertising, bookmarks and more, provided via module and player configuration
Customisable player skins and layout implemented via CSS and HTML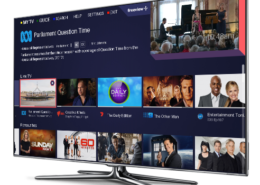 The Freeview Plus HbbTV service upgrade delivers the next level in content discovery and choice for Australian free-to-air viewing.