'F1 Superstreams' deployment for tenplay –
5 additional Formula One live streams broadcast online allowing viewers to experience the thrill of F1 like never before!
The Client
Network Ten is one of Australia's leading entertainment and news content companies, with assets across free-to-air television, online and digital platforms. Network Ten includes three free-to-air television channels – TEN, ELEVEN and ONE – in Australia's five metropolitan markets of Sydney, Melbourne, Brisbane, Adelaide and Perth, plus the digital platform TENplay. With a focus on people 25 to 54 who are young at heart, TEN has a long and proud tradition of bringing fun, irreverent, engaging and informative content to Australians.
Network Ten is the home of big event motorsport in 2015, bringing fans six live V8 Supercars Championship races, live Formula One races, live MotoGP races, eight V8 Supercars highlights programs and the return of Australia's favourite motorsport panel show, RPM.
The Challenge
Network Ten wanted to provide 5 live streams to its TENplay app in addition to their live TV coverage that would enable users to control which broadcast feed they view, live from the event itself via phone, tablet or desktop. The challenge was to capture, encode and deliver these streams within a tight deadline. Utilising partner satellite downlinks, Switch Media had to create streams with adaptive bit rates and 30 second scrub back on mobile devices, providing a truly interactive experience for F1 fans – all available free of charge and with no commercial breaks during live stream broadcasts.
Switch Media's Role
In Switch Media's fastest deployment ever, their cloud based technologies, robust infrastructure and professional services enabled Network Ten to provide an additional 5 live streams to their online TENplay app. Free of charge and with no commercial breaks, the live streaming complemented Network Ten's live TV coverage and allowed viewers to experience the thrill of the F1 like never before.
To achieve this advanced live stream broadcast capability, Switch Media provided tailored live solutions, integrating with Network Ten's F1 broadcast systems with on-site encoding, cloud video management tools, all backed by ongoing technical and operational support throughout the race.
Switch Media's cloud based video content management system, the Switch Media Manager, enabled digital delivery of 5 IP streams direct from the race itself, as well as a system to quickly collect, collate and publish results online.
Project Outcomes & ROI
Network Ten's free and live coverage of the 2015 Formula 1® Rolex Australian Grand Prix was a hit with viewers around the country, attracting 1.38 million viewers nationally and a peak audience of 1.75 million. On tenplay.com.au, the 2015 Formula 1® Rolex Australian Grand Prix recorded 240,000 video views and 417,000 page views. With live views from the driver's seat and pit stop lane, aerial views of car positions on the track, as well as lap times and highlights streamed live to the TENplay apps on mobile, tablet, and desktop – the coverage marked the most extensive access F1 fans have ever seen:
Pit Stop Cam – live view of the action and pressure of the pit lane
Driver Cam – live view direct from the driver's seat during the race
Highlights – playback of race highlights video footage
Stat Tracker – up to date view of lap times, sector splits and other real-time data
Driver Tracker – Live view of real-time car positions around the race track
Project summary
5 baseband SDI feeds from the live broadcast received and encoded into IP streams for the TENplay web app and the TENplay native apps for iOS and Android phones and tablets
Adaptive bit rate employed for all four different renditions required
Live F1 streams made available free of charge to the public for the first time
No commercial break during live stream broadcasts
Speedy deployment – fastest Switch deployment ever
Switch Media will be streaming the remainder of the 2015 F1 racing tournament
"In 2015 tenplay undertook a goal to complement our live and free TV coverage of the 2015 Formula 1® season, including the Australian Grand Prix, with an additional five live streams exclusive to tenplay apps on mobile, tablet and desktop. Streaming live footage from the driver's cockpit and pit stops, exact car positions of drivers around the track, plus lap times and highlights; viewers can experience the thrill of the F1 like never before. By working with Switch Media, we were able to deploy a tailored solution within a very short timeframe which met our specific needs, allowing us to give viewers the most extensive Formula 1® coverage they have ever seen."
Rebekah Horne
Network Ten's Chief Digital Officer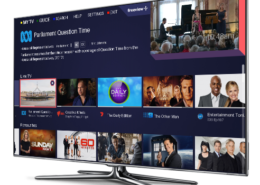 The Freeview Plus HbbTV service upgrade delivers the next level in content discovery and choice for Australian free-to-air viewing.